Shifting using the gearshift lever
Selecting manual shifting
While the vehicle is stopped or being driven, move the gearshift lever from the "D" (DRIVE) position in the main shift gate towards the driver's seat to select manual shifting.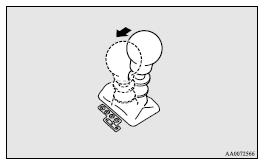 Shifting up and shifting down
Each time the gearshift lever is pulled rearward, the transmission shifts up 1 gear.
In addition, each time the gearshift lever is pushed forward, the transmission shifts down 1 gear.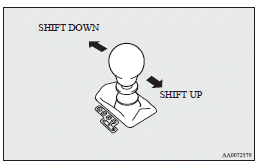 Note
► After manual shifting is selected using the gearshift lever, shifting up and down can also be performed using the shift paddles.
Returning to "D" range operation
Move the gearshift lever towards the front passenger's seat to return to "D" range operation.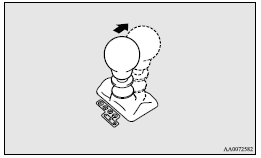 Note
► When the gearshift lever is moved to the "D" (DRIVE) position from the manual shift gate, it may automatically select a gear different from the gear selected during manual shifting depending on vehicle speed or driving conditions.
See also:
Towing
Caution ► When towing the vehicle with only the front wheels or only the rear wheels raised off the ground, do not place the ignition switch in the "ON" position. Placing the ignition ...
Display mode
For vehicles with a MITSUBISHI genuine audio, average fuel consumption, driving range and average speed can be displayed besides average fuel consumption by pushing the "DISP" button in the au ...
Steering control switch
1- Volume up button 2- Volume down button 3- SPEECH button 4- PICK-UP button 5- HANG-UP button Volume up button Press this button to increase the volume. Volume down button Press this button ...