To remove
1. Wrap the tip of the bar with a cloth, insert it deeply into the notch provided in the wheel cover, and use it to lever up the cover a little.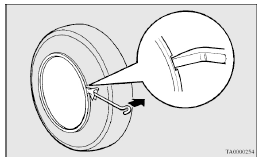 2. With the cover raised a little, pry it off completely using the jack bar. Insert the jack bar under the cover, and move it around the circumference, prying the cover away from the wheel little by little as you move the bar around.

Caution
► If you try to use your hands, they may get hurt by the edge of the wheel cover.

Note
► The wheel cover is made of plastic; take care when prying it off.
See also:
Conditions and operation of the front passenger ODS
*1. The system judges a person of adult size as an adult. When a smaller adult sits in the front passenger seat, the system may recognize him/her as a child depending on his/her physique and ...
Important operation tips for air conditioning
(1) Park the vehicle in the shade. Parking in the hot sun will make the vehicle interior extremely hot, and it will require more to cool the interior. If it is necessary to park in the sun, open t ...
Door ajar prevention system
When the ignition switch is in the "LOCK" (PUSH OFF) position, if you try to lock the doors and rear hatch by pressing the driver's or front passenger's door lock/unlock switch, or the r ...