Digital clock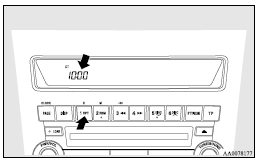 Automatic mode and manual mode are available for digital clock adjustment.
Select the automatic mode or the manual mode by performing the following operations: 1. Press the PWR switch (A) to turn ON the audio system.
2. Enter the function setup mode by pressing the TUNE switch (B) for 2 sec. or longer.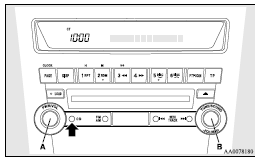 3. Press the TUNE switch (B) repeatedly to select the CT (Clock Time) mode.
The order is: AF → CT → REG → TP-S → PI-S → Language of PTY display → SCV → PHONE → Function setup mode OFF. (Refer to "Function setup mode" on pages 5-25, 5-39.)

Note
► Although "PHONE" appears on the display, the PHONE function is inoperative.
4. Turn the TUNE switch (B) left and right and select either ON or OFF.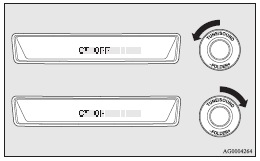 CT ON- Automatic mode
CT OFF- Manual mode

Note
► After selecting a mode, you can leave the function setup mode by taking either of the following steps:
• Press the TUNE switch (B) for at least 2 seconds.
• Make no entry for 10 seconds.
See also:
Smart Cruise Control settings
Smart Cruise Control is designed to detect the vehicle ahead and help maintain the desired speed and minimum distance with the vehicle ahead. Overtaking Acceleration Assist While Smart Cruise Con ...
Door ajar warning display screen (when the ignition switch is "ON")
If any of the doors or the rear hatch is not completely closed, this displays the open door or rear hatch. If the vehicle speed exceeds approximately 8 km/h (5 mph) while a door is ajar, a buzz ...
ACD warning display
When there is a malfunction in the system, the warning display will appear on the information screen in the multi-information display. In addition, the ACD control mode display in section (A) will ...