Digital clock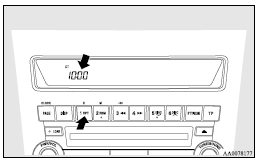 Automatic mode and manual mode are available for digital clock adjustment.
Select the automatic mode or the manual mode by performing the following operations: 1. Press the PWR switch (A) to turn ON the audio system.
2. Enter the function setup mode by pressing the TUNE switch (B) for 2 sec. or longer.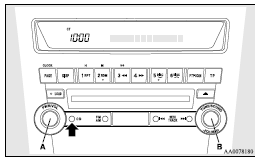 3. Press the TUNE switch (B) repeatedly to select the CT (Clock Time) mode.
The order is: AF → CT → REG → TP-S → PI-S → Language of PTY display → SCV → PHONE → Function setup mode OFF. (Refer to "Function setup mode" on pages 5-25, 5-39.)

Note
► Although "PHONE" appears on the display, the PHONE function is inoperative.
4. Turn the TUNE switch (B) left and right and select either ON or OFF.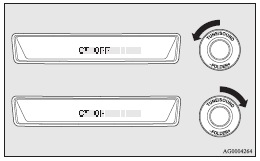 CT ON- Automatic mode
CT OFF- Manual mode

Note
► After selecting a mode, you can leave the function setup mode by taking either of the following steps:
• Press the TUNE switch (B) for at least 2 seconds.
• Make no entry for 10 seconds.
See also:
Paddle shifter
Paddle shifter (if equipped) The paddle shift function is available when the shift lever is in the D (Drive) position or the manual mode. With the shift lever in the D position Pull the [+] o ...
Installing a CRS
After selecting a proper child seat for your child, check to make sure it fits properly in your vehicle. Follow the instructions provided by the manufacturer when installing the child seat. Not ...
Driver's knee airbag system
The driver's knee airbag is located under the steering wheel. The driver's knee airbag is designed to deploy at the same time as the driver's front airbag. ...